Written by Supatra Marsh, Art Neuro founder, Science London volunteer and QMUL researcher
I have volunteered for Science London for a number of years now and I am very grateful to them for introducing me to the marvellous world of science communication. During my time at Science London I have met some wonderful people, made brain shaped bath bombs, and decorated cupcakes with STI's – yes you heard right – Sexually Transmitted Infections!
Upon firm foundations gained from my experience at Science London I ventured off on my own to set up a new project with three fellow scientists from UCL and QMUL. We all had a few things in common – a love of art, a scientific mind, and above all else an astonishing ability to work well at the pub which is where most of our meetings took place.  Art Neuro was born!
Art Neuro is all about communicating neuroscience research in an exciting and engaging way to the public. The use of art presents science in a new light, making it tangible and sparking the imagination of the viewer. We have brought together over 30 artists and scientists who have collaborated with each other over the past four months and this has culminated in a unique and thought-provoking exhibition of 16 original pieces of art displayed at the Rag Factory, East London.
A highlight of the exhibition was a light-installation created by artists Paz Martinez Capuz and Henry Flitton that portrayed sections of the brain that had undergone traumatic injury. This was inspired by the research carried out by scientist Ruth Angus at QMUL who is interested in how the behaviour of cells in the brain changes after injury – she visualises them by using fluorescence light – this is what Paz and Henry have captured in their piece.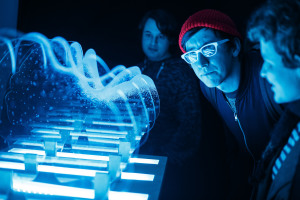 During my time working on Art Neuro I was struck by how well all our artists and scientists worked together – I think there is this misconception that art and science are completely separate entities – we at Art Neuro feel that there is considerable overlap between these two disciplines and that by bringing them together, each will learn something new about the other leading to a more complete world.
Art Neuro artist Kate Hughes explains this point perfectly 'There's an assumption often made that scientists and artists are different species – for me, we're both problem solvers, enquiring minds exploring a common humanity and trying to communicate what we've discovered'.
During and before the exhibition we had a number of interactive events so that visitors could get involved. We took over Science London's SciBar series that usually starts with a presentation followed by audience discussion. The first of these took us on a journey from the addictive behaviours of zebra fish to the toxic protein clusters in Alzheimer's disease. The second SciBar immersed us in the world of mathematical modelling of nerve fibres and the effect of LSD on the brain. At the exhibition we screen-printed the evolution of the brain with the Society of Biology, knitted neurons, tested our memory, and discussed mental health.
Science London's very own Ben Dornan performed at Science Showoff that temporarily set up shop at the Art Neuro exhibition. His set was all about how our brain works to make sense of the world and helps us to fill in missing stimuli, which can sometimes lead to auditory and visual illusions. He ended his set with a familiar tune from the White Stripes – Blue Orchid – and tricked all of our brains into having an erection!