Science news from one of our brilliant volunteers, Dr Alfredo Carpineti.
Last month ALMA (Atacama Large Millimetre Array) took the first high definition image of the formation of a planetary system. Stars and thus planets form from the condensation and contraction of gas and dust clouds that constitute nebulae. Once the molecular cloud starts contracting a protoplanetary disk immediately begins to emerge, heralding the formation of planetoids and eventually planets. And it is from one of these clouds, specifically the Taurus Molecular Cloud, that this image come from.
The photograph shows the star HL Tauri, a sun like star in the constellation of the Taurus 459 light years from Earth, surrounded by a dusty disk. The idea of a disk surrounding the star was first put forward in 1975, with a more detailed follow up analysis in 1986. The latest image shows that the disk has several gaps which are believed to be the result of proto-planets cleaning their orbit. There are two extraordinary things about this image. Firstly is the first image of a planetary system in such a early stage and secondly it is much younger that it is expected. Most studies agrees that HL tauri is not much older than 100 thousand years making the formation of the planets almost simultaneous with the formation of the star.
In the last few years our understanding of planets and planetary formation has been vastly expanded by discoveries beyond our tiny corner of the Universe and new telescopes, such as ALMA, will allow us to better understand the origin of Earth and the Solar system.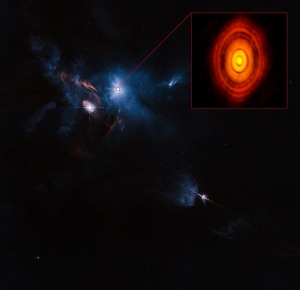 Credit:
ALMA (ESO/NAOJ/NRAO), ESA/Hubble and NASA
Acknowledgement: Judy Schmidt