Our Upcoming Events
EVENT POSTPONED – PLEASE STAND BY FOR A NEW DATE IN APRIL!
Has the Great British Bake Off been inspiring you lately? Come and show us what you can do!
Science London is delighted to announce the first ever Great Science Bake Off – a baking competition with a difference.
Competitors are encouraged to bring along their best baking effort, decorated with a scientific theme. We want to see insects, bacteria, planets and test tubes…the sky really is the limit!
There are no minimum entry requirements, absolutely everyone is welcome. There will be three categories – best decoration, tastiest cake, and "best aged 16 and under".
Once the judges have done their thing, we will be cutting up the cakes and sharing them out, so bring along some friends!
There will also be some hands-on activities, and some awesome prizes up for grabs. We hope to see you there!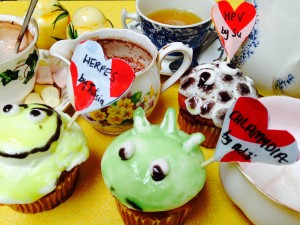 Click here to leave a comment about this event
---
SciBar: It's all in the timing! Understanding circadian clocks
How does our body know when to wake up in the morning and go to bed at night?

Our daily rhythm is maintained by an internal clock that schedules our behaviour and physiology to local time. Neurons in our brains set our body clock – this is our 'circadian rhythm' which helps us maintain a 24-hour sleep-wake cycle.

Alexis Webb is an American chronobiologist who is interested in how individual cells can keep such precise time. She will discuss her work to understand how the cells in our brain act as clocks and how differences in cellular clock behaviour can contribute to things like jetlag and why some of us need that Saturday lie-in more than others

Date: Wednesday 13th May 2015
Time: 7pm, for a 7.30pm start
Place: The Book Club, 100-106 Leonard St
London EC2A 4RH [gmap]
Cost: Free ticketed on Eventbrite
Click here to leave a comment about this event
---
This site is powered by WordPress.
Science London is part of the British Science Association (charity number 212479)