Thank you for your interest in Science London. We are a charity organisation interested in promoting science in the London community.
---
Science and Religion: Exploring the Spectrum
Join us on Monday November 14th to hear two speakers and a panel discuss two topics interwoven in science and religion: evolution and after death.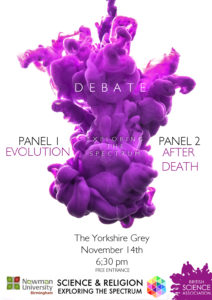 Evolution
We will consider if evolution and creationism are disparate beliefs. Also, we will focus on the way different religions interpret evolution. Does evolution conform to certain belief systems better than others? Furthermore, we will consider the highly possible future of evolution: genetic engineering. Are we 'playing God'?
After Death and Afterlife
We will explore the history of the interaction between religion and archaeology – how one influenced the other while the other tries to untangle the mystery that is the past. Then we will consider contemporary challenges that religion poses to archaeology. We will take a closer look at the exhumation laws in the UK and at the Native American Graves Protection and Repatriation Act in the United States and ponder the moral issues with the analysis of human remains.
The audience is an important part both panel debates. Join us and share your views on the topics we will discuss. Free Entrance.
This Event is part of a series of events aimed at encouraging dialogue about, and amongst, scientific and religious traditions, worldviews and groups. It has been organised by Science London, London's Volunteer Branch of The British Science Association (BSA). Science and Religion: Exploring the Spectrum (SRES) project is based at Newman University in Birmingham.
---
Our site is currently undergoing maintenance so please come back soon for more information of our upcoming events. In the meantime, click the Contact link to subscribe to our mailing list.