Our Upcoming Events
SciBar: Artificial Intelligence – Useful tool or robot overloads?
Dr Allan Tucker will be kicking off Science London's 2015 SciBar series by talking about all things AI.

Artificial Intelligence has been a staple of popular culture for generations. From promises of a Leisure Age when robots would do all of our work while we lived in luxury to scare stories where robots turn against their masters. Dr Tucker looks at some of the key figures in AI in the last century through to the state-of-the art learning machines that are all around us today and asks whether we will ever really have intelligent machines that are comparable to humans.

Dr Allan Tucker is a senior lecturer in computer science at Brunel University. His research focuses on designing algorithms that can learn models from data to aid the understanding and prediction of important events (such as disease onset from clinical data and ecological changes in environmental data).

Date: Wednesday 11th March 2015
Time: 7pm, for a 7.30pm start
Place: The Book Club, 100-106 Leonard St
London EC2A 4RH [gmap]
Cost: Free ticketed on Eventbrite
Click here to leave a comment about this event
---
Has the Great British Bake Off been inspiring you lately? Come and show us what you can do!
Science London is delighted to announce the first ever Great Science Bake Off – a baking competition with a difference.
Competitors are encouraged to bring along their best baking effort, decorated with a scientific theme. We want to see insects, bacteria, planets and test tubes…the sky really is the limit!
There are no minimum entry requirements, absolutely everyone is welcome. There will be three categories – best decoration, tastiest cake, and "best aged 16 and under".
Once the judges have done their thing, we will be cutting up the cakes and sharing them out, so bring along some friends!
There will also be some hands-on activities, and some awesome prizes up for grabs. We hope to see you there!
Tickets now available from our Eventbrite page!
Date: Sunday 22 March 2015
Time: 12 noon for competitors, 12.30 for everyone else!
Place: Paddington Arts Centre, 32 Woodfield Road
London, W9 2BE [gmap]
Cost: Free but ticketed for competitors, £2 or pay what you can for everyone else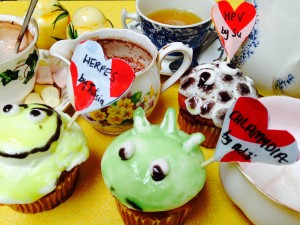 Click here to leave a comment about this event
---
This site is powered by WordPress.
Science London is part of the British Science Association (charity number 212479)